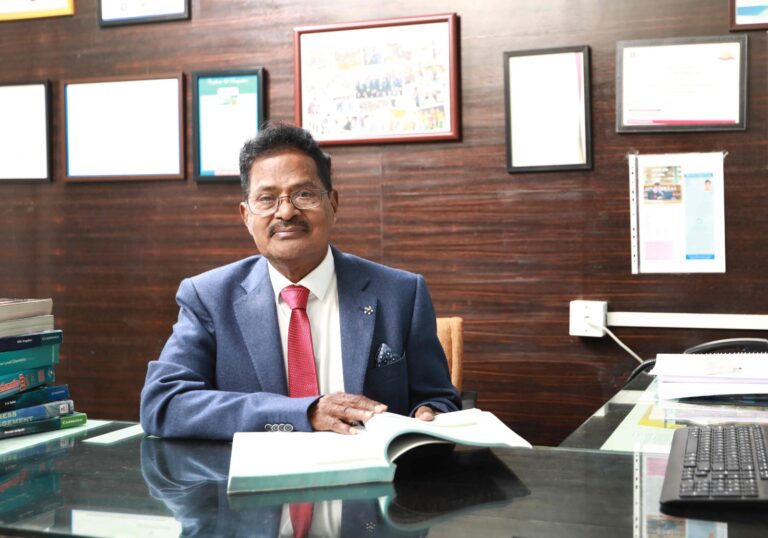 Dr. R. Varadarajan Founder President NES-SVB Group of Institutions
One of my dreams – College of Pharmaceutical Sciences, over the past twenty-seven years, has made its mark in the field of Pharmacy and Healthcare Education in the country. This stature has been achieved mainly through unique initiatives and introduction of several research based measures. My experience of over five decades as an academician and institution builder, blended with the system of education prevailing in many advanced countries, which I visited, has led me to conclude that the quality of education, anywhere in the world, can only be developed through science and application of research oriented methods and practice.
The research connotation has been inducted in my college through following activities: Institute-Industry Connect – We enjoy a close rapport with the Pharmaceutical and Chemical Industries in Mumbai and Thane Districts as well as other companies in the country, Placement support and guidance for our students, Introduction of state-level award scheme of "Young Pharmacists' Innovative Project and State level Pharma Quiz," Institute support for faculty in research and innovative teaching methods in class. These special measures enabled NAAC accreditation of B+ grade & now in 2019-20 NBA Accreditation. Our sincere effort also translated into near 100% results for our students, and some of them also made it to merit ranks in University examinations right from our early formative years. In addition, the student community has been highly appreciative of the placement system, individualized care and encouragement for entrepreneurship have made this a coveted institution for aspiring pharmacy students in the state and has also brought with it global recognition.  The British Institute for Learning and Development UK, considering the performance of the college, a flagship institution of NES-SVB Group of Institutions,awarded it British Quality Mark and enrolled the college as British Corporate Member.
Amidst of all these honors, awards and accolades, I have only a few words of advice for my dedicated teachers and students. These achievements must serve only to empower you all with a stronger ambition to strive towards our common goal of making the college one of the best not only in the country, but in the world. I am confident that my students and teachers will take the right steps to prove their mettle in the years to come. I also express my sincere gratitude to all parents of the college whose whole hearted cooperation and support have been with us throughout. 
Our Annual theme for the year 2019-20 was "Forging ahead for the zenith of excellence deploying the latest emerging technologies for upgradation in every field". I strongly hope the underlying concept of the theme has been adopted in letter and spirit by all the students and teachers and has been implemented to its core.
During 2020-2021, I have taken on hand a unique project of Remodelling each of our institutions which will contribute immensely to strengthen the brand image of the institution thus making it prominently acclaimed in the educational scenario of the nation. I wish you all the best for the new academic year 2020-21.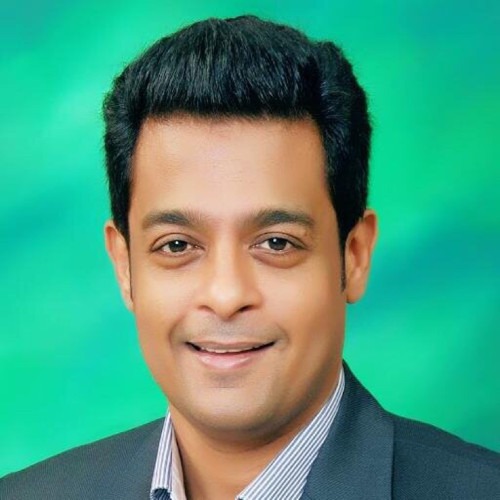 Dr. V. Balasubramanian Director NES-SVB Group of Institutions
Welcome to SVB's College of Pharmacy! I am privileged to serve this college as the Director of NES-SVB Group of Institutions. After serving the students of Mumbai for nearly three decades, it was my father, Dr. R. Varadarajan's dream to start a professional college for the students of the Thane region. Thus, this college was started in the year 1993 under the aegis of Saraswathi Vidya Bhavan. In 1993, this was the first Pharmacy College in the Thane region. The students, alumni, the faculty and staff of this college are very dear to me.
Just as in other institutes of NES-SVB Group, I expect faculty of this college to give their full commitment to provide a valuable educational experience to students. As Henry Adams had wisely said about teachers, "A teacher affects eternity; he/she can never tell where his/her influence stops". Health Care and the Profession of Pharmacy are constantly evolving. In response to these changes, we are continuously evolving the pharmacy education imparted to our students. Over the years the college has started many research-driven initiatives to develop high competency levels in our students. We are proud that our students do well in their academics. To provide an avenue for our D.Pharm. and B.Pharm. students to continue their Pharmacy education journey, the college also conducts the M. Pharm as well as Ph.D programme. The rapport of the college in industries around its technological exchanges, placement drive and various other initiatives for students' benefit has endeared this college in the entire Thane-Mumbai area. Best wishes to students and our learned faculty members for the ensuing academic year 2022-23
Dr. Monita Gide 
I feel absolutely honored and privileged to welcome each student to the academic year 2022-23. Saraswathi Vidya Bhavan's College of Pharmacy, established in 1993, has been endowed into a temple of education at the hands of Passionate Educationist, Founder President, Dr. R. Varadarajan.
The Institute has grown by leaps and bounds since the year of inception. It runs D. Pharm. Programme, B.Pharm. Programme, M.Pharm. Programme in two branches namely Quality Assurance and Pharmacognosy & Phytochemistry and Ph. D. Programme in Pharmacognosy and Phytochemistry. Based on strong values of Quality Education, the institute has garnered a remarkable status over the period of 28 years. We believe in transforming each student into a well-taught, well- disciplined and well-mannered individual. Abundantly resourceful framework of the institute provides a learner with all the necessary facilities which will help him or her thrive in the field of Pharmacy. Spacious and well-equipped laboratories with modern instruments encourage students to flourish in the area of research and motivate one to come up with novel ideas worth publishing in journals of high repute. A student is garnered to be a successful professional by the highly qualified and dedicated teachers. A Pharmacist can weave a prosperous career in pharmaceutical industries in various areas like Production, Formulation Development, Analytical Method Development, Quality Control, Quality Assurance and Marketing. Also, opportunities in area of Clinical Research, Patent and Regulatory Guidelines, Hospital Pharmacy and Teaching field are plenty. A Pharmacist not only builds his own career but helps the society in every possible way to avail a reliable healthcare system vital for human life. We consider it as our privilege to have got an opportunity to endow each of our students into an efficient professional.