Rules and Regulation
Attendance
Attendance for all lectures / practicals / tests / examinations / seminars is compulsory. A student who is not regular in attendance or fails to carry out his/her work to the satisfaction of the faculty I/C and Principal is liable to cancellation of his / her term.
As per the University Ordinance 119; 75% attendance is compulsory for keeping the term. The student who does not have the required attendance (at least 75%) of lectures and practicals conducted or who does not show satisfactory progress will not be allowed to appear for the final examinations.
Examinations
Attending periodic exams, class tests and seminars conducted in each semester is compulsory.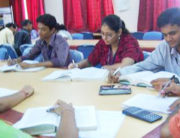 Dr. (Mrs.) Monita Gide
In-charge Principal, Associate Professor
 Dr. ( Ms ). Chhaya Gadgoli
Prof. HOD Pharmacognosy and Phytochemistry
Dr. ( Mrs.) Sandhya Parameswaran
Prof. HOD Quality Assurance
Mr. Shivaji Giram
Assistant Professor
Dr. Archana Arvind Naik
Associate Professor, HOD Pharmaceutical Chemistry
Ms. Prachi C. Pathak
Assistant Professor
Ms. Leena A Chavan
Assistant Professor
Ms. Anuja Parkhe
Assistant Professor
Ms. Rupali Bhoje
Assistant Professor
Mrs. Priyanka Vaibhav Kalamkar
Assistant Professor
Ms. Divya Raghavan
Assistant Professor
Ms. Maggie Jo Alex
Assistant Professor
Mrs. Purnima Vivek
Assistant Professor
Ms. Manasi Chogale
Assistant Professor
Mrs. Richa Champaneria
Assistant Professor
Dr. Vikrant Dandekar
Associate Professor
Ms. Akshata R. Pahelkar
Assistant Professor
Ms. Aditi Lambe
Assistant Professor
Ms. Trupti Waghmare
Lecturer